Concrete Otter Garden Concrete Water Feature Fountain CASH/COLLECTION ONLY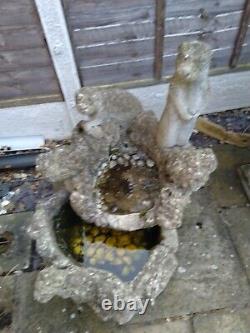 Concrete Otter Garden Water feature, fountain - with lovely detailing. It splits into two large pieces and has three feet - there is a tube going from the bottom level to the top. The original pump broke but we have a replacement on just never got round to fitting it.
Crafted from durable concrete, this water feature is built to last and withstand the outdoor elements. Perfect for adding a touch of nature to your garden, this fountain is designed to resemble an otter playfully holding a fish in its mouth.