Garden Water Solar Feature Fountain Pond Pump Outdoor Kit Led Lights Bird Bath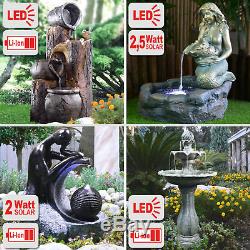 To find more interesting products. We distribute products from A to Z on the Internet. As we work more cost-effective than the sales in the traditional retail, we can deliver quality products at a good price. Our sales department will be happy to answer your questions. Contact details can be found in the item description.
And the best of all, your goods will be delivered directly to your home. All products in almost unbeatable price-performance.
Workshop and Spare parts service. SELECTION 1: "TREE STUMP & CLAY JUGS" Solar Fountain with Li-Ion Battery and LED Light.
SELECTION 2: "MERMAID at the POND" Solar Fountain with Li-Ion Battery and LED Light. SELECTION 3: RATTAN Solar Fountain with Li-Ion Battery and LED Light. SELECTION 4: "MERMAID" Solar Fountain.
SELECTION 5: "CLASSIC GARDEN" Solar Fountain with Li-Ion & LED Light. SELECTION 6: "LADY in BLACK-2" Solar Fountain with Li-Ion & LED Light.
SOLAR GARDEN WATER FEATURES WITH LI-ION BATTERIES AND LED LIGHTING - IN VARIOUS DESIGNS. 3 years guarantee with a lifespan of over 60,000 hrs of operation (note below). The eye-catcher with a soothing rush of water in gardens , on balconies or on terraces. All models with LiIon and LED night lighting (apart from "Mermaid").
Maximum flow rate between 180L/h and 500L/h. Ready-to-plug solar pump system i.
E ready for immediate use. Each with a high quality solar panel in stable non-breakable aluminium frame with an output from 1.3W to 5W. Integrated filter protects the pump (easily cleans itself). Adjustable angle of the solar model and a 5m connection cable makes it possible to optimally place the panel in a sunny area.
The Solar Pond Pump Sets convert the power of the sun into running water. High quality components set the water in motion as soon as sunlight reaches the solar surface.
The stronger the sun, the more intense is the water movement. The soothing sound of water gives each pond a lovely touch and the sparkling of water in the sun is always the perfect eye-catcher. Other than beautifying gardens, running water provides a cooling effect on hot summer days. "TREE STUMP & CLAY JUGS" Solar Fountain with Li-Ion Battery and LED Light as well as memory timer function. This tree stump is a very decorative eye-catcher made of polyresin.
It is ideal for gardens, terraces and balconies. Operates during the day as well as night.
Can be operated in the shade as well as in the sun. Flow rate: 250 l/h; Max. Discharge head: 90 cm; Output: 2 Watt. "MERMAID at the POND" Solar Fountain with Li-Ion Battery and LED Light.
High quality solar panel with an output of 2.5 watts and a max. Can be operated in shade as well as in the sun. There is no additional consumption of electricity or follow up costs. Laying of cables in gardens, on balconies or terraces does not apply.
RATTAN Solar Fountain with Li-Ion Battery and LED Light with black sphere. Has a maximum flow rate of 250l/h and high quality solar panel in stable non-breakable ALU-FRAME with an output of 2 watts. This improved water feature model has INSTANT-START-FUNCTION with Li-Ion Battery. It has a beautiful copper appearance and is ideal for gardens, ponds, terraces, balconies. It also perfectly matches with RATTAN garden furniture.
The mermaid (maximum flow rate of 500l/h; maximum discharge head of 140cm; output of 5 Watt) impresses with its size and surface, which gives an impression of a bronze figure. The powerful pump delivers water into the shell from where it then falls back into the pool of water in several places. This water feature does not only look good but also oxygenates the pond. "CLASSIC GARDEN" Solar Fountain with Li-Ion & LED Light.
The "Classic Garden" is an elegant solar fountain. It is 112cm high with LED lighting and can be used as a plug-in solar pump system. A stable aluminium frame protects the high quality 2 watts solar panel from breakage. The solar panel can be ideally placed anywhere thanks to the 5m long cable.
Li-Ion batteries guarantee maximum performance and service life of solar fountain set. "LADY in BLACK-2" Solar Fountain with Li-Ion & LED Light. The "LADY IN BLACK-1" Solar Set is a flair of modern sculpture art in the garden, on the balcony or even on terraces. The complete plug-in solar pump system is equipped with Li-Ion batteries as well as a solar panel enclosed in a stable, unbreakable aluminum frame and LEDs that switch on automatically at dusk. This set is a guaranteed eye-catcher!
The solar powered system can be used anywhere in the garden as it does not rely on 230V power outlet. You can optimally place the solar system and use it effectively and safely. The new AUTOMATIC-INSTANT-START function of the solar module ensures that the pump starts even in worse sun conditions. The energy generated in the solar panel is temporarily stored and then supplied to the pump promptly. As a result, the pump starts earlier than similar solar sets without an AUTOMATIC-INSTANT-START function.
Once the starting resistance has been overcome, the pump runs continously until the solar power becomes weak. This will give you more pleasure in your solar pond pump. Your pond will be supplied with oxygen up to 100% more! The li-ion battery innovation has no memory effect. This is particularly important especially with frequent loading and unloading operations common to solar pond pumps.
Li-ion batteries are much better than conventional batteries in terms of temperature fluctuations. Overall, li-ion batteries have a longer lifespan of 10 times more when operated with solar pond pumps! NOTE: OUR HIGH QUALITY SOLAR MODULES ARE COVERED IN ALUMINIUM FRAME. CHEAP SOLAR PANELS NOT COVERED IN FRAMES ARE WEATHER AND SHOCK SENSITIVE. Guarantee only applies to pond pumps (not solar panels or the cables).
Pond pump with 5m cable. Tree Stump & Clay Jugs. Li-Ion battery 7.4V/1.2AH. Heigh X width X depth. 190mm X 150mm X 18mm. 270mm X 235mm X 18mm. We regularly check the product quality of our suppliers and guarantee the best quality and durability for long enjoyment of our products. For used goods, this is reduced to 12 months. If we provide a further guarantee, this is listed in the item description. For used goods this can be ruled out. Write to us and we will solve the problem together! So you is more helpful and us too! We strive constantly to improve the quality and service. Let us deal fairly with each other! If in doubt, unpack the goods immediately and check this. You will receive an invoice with VAT. Our Conditions, Cancellation and return rights, can be found on our -site.
Or below on the supply side. E-WASTE, BATTERY LEGISLATION, PACKAGING DISPOSAL. The instructions can be found in our Shop. The item "GARDEN WATER SOLAR FEATURE FOUNTAIN POND PUMP OUTDOOR KIT LED LIGHTS BIRD BATH" is in sale since Tuesday, March 6, 2018.
This item is in the category "Garden & Patio\Ponds & Water Features\Pond & Fountain Pumps". The seller is "profitech-shop1" and is located in Schwallungen. This item can be shipped to European Union member countries.
MPN: Does Not Apply
Brand: profi-pumpe.