New Item Large Saturn Ball Fountain Double Tiered Garden Water Feature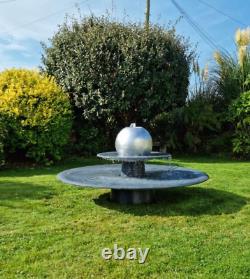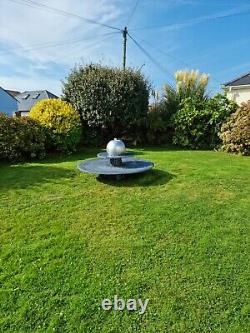 NEW ITEM LARGE SATURN BALL FOUNTAIN DOUBLE TIERED GARDEN WATER FEATURE. GEOFF'S GARDEN ORNAMENTS LTD. 01243 532390 OR 01243 532357. GEOFF'S GARDEN ORNAMENTS IS ONE OF THE COUNTRIE'S TOP LEADING MANUFACTURE'S. THIS SALE IS FOR A LARGE SATURN BALL FOUNTAIN. SIZE: 1200 CM TALL, 200 CM WIDE MAIN BOWL, 100CM WIDE SMALLER BOWL, 50 CM DIAMETER BALL. SUPPLIED WITH A NEW PUMP AND 10 METERS OF CABLE. LARGE PROPORTIONS THAT THE PICTURE JUST DONT DO THE FOUNTAIN JUSTICE FOR. BLACK FOUNTAIN BOWLS WITH YOUR CHOICE OF EITHER A BRONZE OR SILVER EFFECT BALL PLEASE SPECIFY WHEN ORDERING. New product - Saturn ball fountain, designed by us for the demand of larger fountains in this style with a plug and play instillation concept. Fully self contained and just requires a level flat surface to set this fountain up and have running in under 30 minutes.
Your choice for either a single or double tiered fountain. Made from GRP fibreglass to give the fountain its ease of instillation qualities including light weight, in return this material enables a unique and rare designed fountain with bespoke characteristics and style that are unachievable with stone. WATER IS PUMPED FROM THE MAIN BOWL UP TO THE TOP OFF THE FOUNTAIN TO THEN CASCADE BACK INTO THE MAIN BOWL. EVERYTHING YOU NEED TO SET UP AND RUN YOUR FOUNTAIN IS INCLUDED.
ALL OF OUR PRODUCTS ARE HAND FINISHED BY OUR SKILLED STAFF AT OUR OWN FACTORY. OUR PRODUCTS ARE MADE FROM NATURAL STONE, AS A RESULT COLOUR SHADES MAY DIFFER SLIGHLY TO THAT ADVERTISED. Follow Geoff's Garden Ornaments! Established in 1987, we are a family run business producing garden ornaments.
We have built our reputation on providing quality stone ornaments and statues into garden centres and trade outlets. We are now pleased to offer a wide selection of items direct to the public at discount prices. Deliveries are carried out via independent courier companies, all members of the pallex network.
The pallex network is one of the largest in the UK, with an emphasis on, safe and secure transport. Your items are securely wrapped up on pallets; the driver will use a pump up pallet truck to pull the pallet on to your property. It is then up to you, family and friends to put the items in-situe.
The restrictions on the pump-up pallet truck are: they cannot be pulled along soft ground, this includes shingle/gravel; they cannot be pulled up steps or stairs. PLEASE READ BEFORE OPENING YOUR PALLET. We take great care and pride in our products and do our best to ensure the goods arrive to you in the condition they were sent. However, during transportation the goods on the pallet may have moved, as a result during unpacking take extra care as items may fall.
Before removing the packaging look over the pallet to identify areas that may become a problem, is the load on the pallet leaning to one side? You may need additional help due to the weight of some items. Lifting some items could cause injury so always check the weight before lifting and get help where needed. Never lift an item that is more then you can physically lift. Never roll goods off the pallet, never place items down hard, and always use two or more people if needed.
We want you to enjoy your product, so take time when moving your item. This will reduce the risk of the item being damaged and injuries happening.