Rippling sphere Garden Water Feature With LED lights. Outdoor Patio Fountain NEW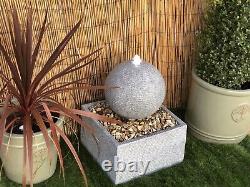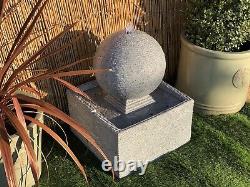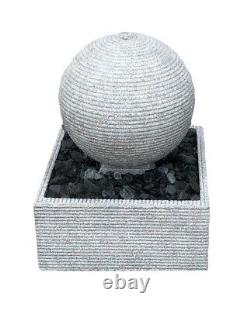 Transform your outdoor space into a captivating oasis with the stunning Granite Effect Rippling Sphere Water Feature. This elegant and sophisticated addition will bring a sense of tranquility and beauty to your garden, patio, or backyard. Get ready to be enchanted by the soothing sounds of flowing water combined with the mesmerizing visual effects of rippling spheres. The focal point of this water feature is the impressive 30cm sphere, expertly crafted with a striking granite effect that adds a touch of natural beauty to any setting. The sphere gracefully rests upon a sturdy 40cm cube base, providing stability and durability, ensuring years of enjoyment.
To further enhance its allure, the Deco-Pak Water Feature comes complete with a built-in LED light, illuminating the rippling water in a delightful display of colors. Picture yourself relaxing on a warm summer evening, surrounded by the enchanting ambiance created by the gentle glow of the LED light reflecting off the cascading water. The included 10m cable allows for easy installation and flexibility in finding the perfect spot for your water feature, whether it's nestled among your flower beds, placed as a centerpiece on your patio, or as an eye-catching accent in your garden. Stunning 30cm granite effect rippling sphere adds a touch of elegance and natural beauty. Sturdy 40cm cube base ensures stability and durability.
Built-in LED light creates a mesmerizing visual display of colors. Relaxing sounds of flowing water create a soothing and peaceful atmosphere. Easy installation with the included 10m cable for flexibility in placement. Enhances any outdoor space, including gardens, patios, and backyards. Indulge yourself in the serenity of your own outdoor sanctuary with the Deco-Pak Granite Effect Rippling Sphere Water Feature.
This exceptional piece will undoubtedly become the focal point of admiration, inviting friends and family to gather and relax in the tranquility it provides. Don't miss the opportunity to bring this captivating water feature home today! Note: This water feature requires a power source and should be protected from freezing temperatures to ensure its longevity.