Smart Garden Feather Falls Hybrid Solar & Battery Power Water Feature Fountain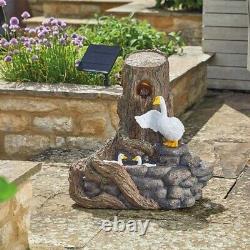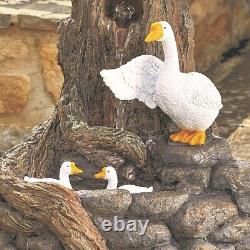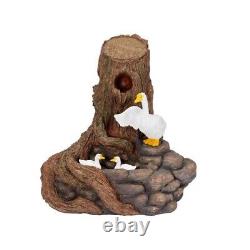 This beautiful solar-powered Feather Falls Hybrid Water Fountain from Smart Solar is the perfect idyllic feature for any sized garden or patio. The water feature is decorated with elegant geese that happily enjoy the water as it trickles down and recirculates so that they can lark amongst the falls. The elegant Feather Falls solar-powered water fountain requires no mains wiring and is designed from stone effect resin for a sculpture-like appearance. Just place this water fountain in direct sunlight for the two solar panels to retrieve the best results. The water fountain has a low-voltage pump that recycles water from a reservoir hidden within the base that gently trickles, creating a soothing, subtle sound.
The recirculating water is recycled meaning that this is entirely self-containing, so you do not need to hook up to mains water or electricity. This solar-paneled water feature is portable for your ease and convenience to place wherever you would like, on your porch, patio, or in your garden.
The Feather Falls will definitely be a stylish piece to add to your garden that will provide hours of admiration and soothing relaxation - and will definitely add a finishing touch to your beautiful garden. Automatically switched between solar and battery, depending on sunlight. Battery enables the fountain to operate in the evening. No electricity needed - costs nothing to run! Perfect for any garden, patio or balcony.