Superfish Pond Flow Eco Fountain Pump Water Garden Filter Clear Feature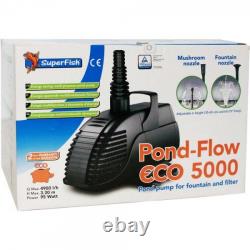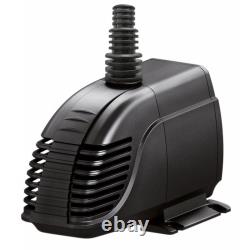 Superfish Pond Flow ECO Fountain Pumps. Can be used as a fountain feature or filter pump. Economical operation - low running costs. The Superfish Pond Flow ECO fountain pumps range are suitable for use as a water fountain or as a standard filter pump.
These pumps feature advanced energy saving technology making them very efficient to run, and the ideal choice for any garden pond/pond feature. These pumps come with 2 different fountain heads included. These include the fountain nozzle and the mushroom nozzle. Both of these fountain heads are easily adjustable for height and can also be installed with ease.
Also included is a T piece to allow the pump to supply a filter or waterfall simultaneously to a fountain. These pumps also feature an overload heat safety. If the device detects itself overheating it will automatically shut down to cool off. The time it spends off to cool is around 15-20 minutes after which it will automatically start up again. If this instance occurs with your pump, ensure you identify the cause and rectify to avoid future problems and damage to your pump. 13.5 x 7.5 x 6cm. 14 x 8 x 8cm. 17 x 9 x 11cm.
21 x 9.5 x 11cm. 23 x 11 x 12cm. Fountain height is adjustable 365cm and with 15 degrees tilt. Pump Socket BSP Size: 1/2 inch. You May Be Interested In..
Orders placed before 3pm Monday-Friday (excluding public holidays) will be dispatched the same day.